Embark on an epic and heartfelt journey alongside Kratos and Atreus with the PlayStation®5 Console – God of War™ Ragnarök Bundle.
Enjoy God of War Ragnarök with PS5 innovations including 4K and HDR visuals*, DualSense™ wireless controller adaptive triggers and haptic feedback and Tempest 3D AudioTech**.
What's in the Box


PlayStation®5 console
DualSense™ wireless controller
DualSense™ USB charging cable
God of War Ragnarök full game voucher †
ASTRO's PLAYROOM  [Rated E10+] (Pre-installed game) ††
Base
HDMI® cable
AC power cord
Printed materials
† PlayStation Network account and internet required to redeem voucher.
†† PS5™ console may need to be updated to the latest system software version. Internet connection required for update.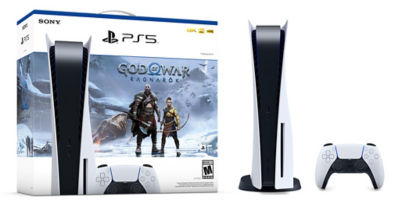 God of War™ Ragnarök on PlayStation 5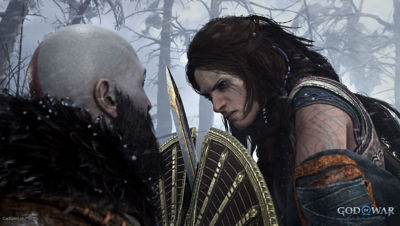 Feel your journey through the Norse realms, made possible by immersive haptic feedback and adaptive trigger functionality. 
Bask in the beautiful worlds you travel through, brought to life by stunning art direction and arresting attention to detail.
Take advantage of multidirectional 3D Audio; hear enemies approaching from any direction.¹

¹ 3D Audio with stereo headphones (analog or USB).
Afterpay Payments, VISA, MasterCard, American Express, and Discover can accept payments. We regret that we are unable to carry individual checks. SSL is an industry-leading encryption standard that will protect your card number. If you pay for items or administrations through our site, your card number will be secured using SSL.
Cancellation Policy
Scratch-off needs to be done on the same day as the date of the request. The customer should call uphold and inform them of the reason for their request.
If the request has already been sent or is part of the tradition of your country, the request cannot be returned. In these cases, you can accept the package and then return it.
We appreciate your shopping with Beastportail.

If there is any reason why you aren't delighted with your purchase, we suggest that you review our refund policy and returns.

The following terms apply to all products you bought from Us.

DEFINITIONS AND INTERPRETATION:

DEFINITIONS
To be used in conjunction with this Policy, the following applies: Return and Refund Policy:

Company (referred by "the Company," "We," "Us," or "Our" in this Agreement) is a reference to Beastportail.
Goods refer to items sold through the Service.
Orders are a request from You for the purchase of Goods From Us.
Service refers specifically to the Website.
Website is the name of Beastportail available at beastportail.com
You are the user who accesses or uses the Service or the company or another legal entity on behalf of the person using or accessing the Service if appropriate.

INTERPRETATION

The words in the alphabet in which the initial letter is capitalized have meanings determined by the following rules. The following definitions will have the same intention, whether they appear singular or plural.

RETURN CONDITIONS

If you want the item to qualify for a return, please ensure that you:

The Goods were purchased within the last 15 days.
The goods are packaged in original packaging.

The following goods are not returnable."

The delivery of goods customized to your specifications or specifically personalized.
The supply of goods in their nature cannot be returned or deteriorate quickly or when the expiry date is passed.
The supplied goods cannot be returned for health or hygiene reasons and were not sealed after delivery.

Our company has the discretion to reject the return of any item that is not in compliance with the conditions above for returns at our sole discretion.

Only standard-priced goods can be returned. Unfortunately, goods that are sold cannot be returned. This exemption doesn't apply to You if it is not allowed under the law applicable to you.

RETURNING GOODS

The customer is responsible for costs for returning any Goods you have purchased to Us. The Goods must be returned to the address below:

845 Market Street, San Francisco
California 94103, United States

We aren't responsible for any loss or damage to goods when returning the shipment. Therefore, we recommend using an insured and trackable shipping service. We cannot offer refunds without proof of receipt of the goods or proof of receipt of the Return Delivery.

GIFTS

If the product were purchased as a gift at the time of purchase and then delivered straight to the recipient, you'd be issued a gift credit equal to the amount of your return. After the product returned is received and a gift certificate is given, it will be mailed to you.

If the items weren't labeled as a gift at the time of purchase or the person giving the present could have the Order sent to themselves for them to gift it to you in the future, we will mail the money back to the gift recipient.

CONTACT US

If you have questions regarding the Returns and Refunds Policy, we invite you to contact us:

By email: support@beastportail.com

The number to call is +1 209-621-0731