Greenbriar 12×24 Wood Garage Shed Kit – ALL Pre-Cut
$2,120.00
101 in stock
-
Description
Our shed line from Best Barns sheds now includes garage kit options. Add a single stall garage and lots of extra storage space to your backyard with our
12×24 Greenbriar prepped for vinyl siding wood garage kit!
The Greenbriar storage building kit provides a single car garage stall. The great low price, huge storage area,
easy do it yourself assembly
and excellent looks make the Greenbriar storage garage a great choice! *vinyl siding provided by customer; match your home for a professional look!
Prepped for vinyl siding means that the exterior walls will be covered with an oriented strand board (OSB). The customer will then apply any exterior siding of their choice purchased locally. Choices include wood siding, stucco, vinyl siding or any exterior grade siding. Most of our customers use this style shed kit to match the siding on their home.
8'W x 7'H garage door area 

*garage door not included / provided by owner
8′ 1″ tall side walls!
24″ on center wall studs

Heavy duty roof system designed for a wind load of 120 mph and snow loads of up to 40 lbs. per square foot!

(pictured with 2 optional windows with shutters, cupola, garage door and gable window not included; add these and other options below!)
Heavy Duty Truss System:
40 lbs per square foot snow load
120 mph wind rating
Hurricane truss hangers included!
All required hardware included: door hinges, latch, hurricane straps for trusses, nails, glue for gussets and detailed instruction manual included.
Paint, shingles, siding and roof edge are provided by owner / not included.
Look at all the headroom in this storage garage!


Optional Item
Wood floor is not included; Add a wood floor kit to your shed to give it a finished look!
Designed specifically for your new storage building. Adding a wood floor provides a dry storage area and raises the building above the ground protecting if from damaging moisture. Included in the floor kit are 4×4 treated runners, 2×4 treated joists (spaced 12″ on center), 3/4″ plywood flooring and nails. The material is not pre-cut and will require the customer to make simple straight cuts. The flooring package will be delivered before your shed by a local lumber dealer. They will call to make delivery arrangements and someone must be there to receive and sign.


Optional Item
Add an optional pre-cut treated wood ramp to your new storage building. Our wood ramp will line up perfectly with your floor kit. Having a ramp will make it easier to drive in and out.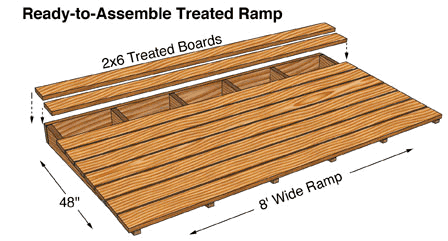 Optional Item
Add optional windows to your garage kit. Our 18″x36″ windows are constructed of aluminum and come with decorative, paintable vinyl shutters for either side. Comes with lockable frames and screens to keep burglars and pests out.
Optional Item
Add an optional side entry door for easy access! Choose either a six panel or nine window steel door. Both door styles include the aluminum threshold and lock set. When selecting your door please choose which side you want the hinges on so we send you the correct door. Door opens swinging inside the garage.